Col Gregory T. Breazile, USMC (ret), Former Director, Information Warfare Integration Division (IWID), Capabilities Development Directorate (CDD), Deputy Commandant, Combat Development & Integration (CD&I), CSFI Advisory Director, Executive Director, Defense & Expeditionary Initiatives NameViaSat In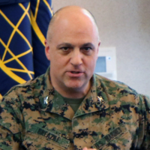 Business. Mr. Breazile serves as the Executive Director of Defense & Expeditionary Initiatives at ViaSat, Inc., a global communications provider. He joins Viasat with over 34 years of experience in the fields of Military Strategy, Leadership, Capability Portfolio Management, Command & Control (C2), Cyberspace Operations, Electronic Warfare (EW), and Information Operations (IO); providing critical support to joint forces and Marine Corps organizations. He saw the game changing technologies Viasat is developing and wanted to articulate how these commercial technologies can solve many critical capability gaps in the defense of our nation and allies.
Mr. Breazile is also the President of Breazile Cyber & C4I Solutions LLC, providing consulting services specializing in tactics, techniques, and procedures for operations in the information environment. He is well-versed in a number of diverse capabilities including: cybersecurity, data analytics, tactical data networks, electronic warfare systems, signature management, ISR systems, tactical radios, and satellite communications.
Military. A career Marine Corps officer with over 34 years of military experience. His last assignment (2013-2017) was as the Director, Information Warfare Integration Division in the Marine Corps Combat Development Command, Quantico, Virginia. During this duty he conducted capabilities analysis, gap analysis, produced solution directives, and served as the Capability Portfolio Manager for all C2, Cyber, EW, and IO programs. He was responsible for drafting all Marine Corps Information Warfare concepts and doctrine.
Education. Mr. Breazile earned his Bachelor of Arts in Political Science from the University of Oklahoma and holds a Masters of Military Art and Science (MMAS) Degree with a focus on Information Operations from the Army Command & General Staff College, a Master of Arts (MA) Degree in Information Management from Webster University, and a Master of Science (MS) Degree in National Resource Strategy with a focus on Information Operations from the Industrial College of the Armed Forces (ICAF).
Community, Leadership Roles & Memberships. Mr. Breazile currently serves on the Advisory Board for the Cyber Security Forum Initiative (CSFI). He previously served on the Board of Advisors, Missouri State University Cyber Security Graduate Degree Program and served as the President, Quantico Area AFCEA Chapter.