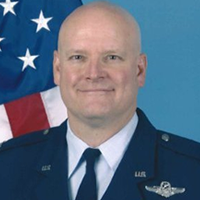 Colonel (Ret) Marc Jamison consults on Cyber Security, Strategy and Operations for his own company Cyber CheckMate Consultants. He has consulted for over 30 industry partners supporting cyber operations. Recently, he completed a tour at STG as their VP of DOD and IC Business Development. From 2013-2016 he supported the US Army as they build their new Cyber Electromagnetic Activities (CEMA) concept combing Cyber and Electronic Warfare. He worked for L-3 Communications as the Director of Cyber Operations and Director of Strategic Ventures that included Merger & Acquisition evaluations and oversight of strategic partnerships with universities
Colonel Jamison has more than 30 years of progressive experience directing, managing, and training government teams in air operations and cyber security. He has led and planned national Cyber, Counter Terror and Air Operations and has advised senior-level USG leadership on strategies and policy. Colonel Jamison is a demonstrated expert in cyber strategy, planning, training, threats, operations, policy and organizations.
Prior to industry, Colonel Jamison served as J35 Director of Future Operations for USCYBERCOM and as the J3 Director of Operation for its predecessor organization Joint Functional Component Commander – Network Warfare (J3) at Ft. Meade. He spent three years as a senior executive establishing USCYBERCOM, a "plank holder", where he directed multiple national level operations and developed cyber doctrine and tactics, techniques and procedures.
Colonel Jamison is a retired U.S. Air Force Colonel and combat aviator, who flew B-52 and B-1 bombers. He was the Director of USAFE's Strategy Division and commanded the Combat Plans Squadron for 8th Air Force. He is a graduate of the School for Advanced Air and Space Studies and USAF Weapons School. He holds four Master's degrees, including an M.S. in Strategic Studies from the U.S. Army War College and is a published author.
Colonel Jamison serves on the Board of Directors for Association of Old Crows, Cyber Security Forum Initiative (CSFI) and on San Antonio's Chamber of Commerce Cyber Industry Council .